Judge Lloyd D. George

United States District Court

333 Las Vegas Boulevard South

Las Vegas, NV. 89101

Case No.  CV-S-03-0281-LDG (RJJ)

THE TEMPORARY RESTRAINING ORDER HEARING

MONDAY APRIL 7TH 2003 1:PM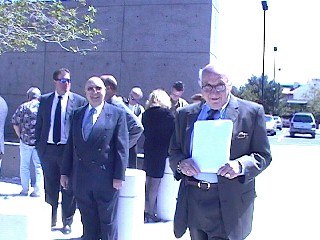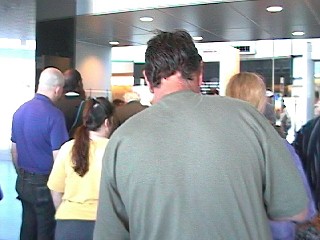 Irwin, Cindy, Larry and many of us supporters got there early. We gathered in the front of the courthouse and discussed the issues at hand and socialized with fellow Schiffers. By the time we had to go into the courthouse, we all had exchanged our own IRS horror stories.

Irwin was excited, prepared and raring to go! Everyone knew in advance that the government and the Judge were not going to give Irwin an inch. And Irwin felt the same way about them.

Irwin made mince meat out of them. He kept saying, "just show me the law". "What law am I breaking?"

The judge said, "we are not here to decide that today, Mr. Schiff."

We are here to discuss the temporary restraining order.

We filed thru the entrance of Ole King Georges Court House all fired up and ready to witness justice in America. And they were ready for us. The x-ray machines were cookin and the security guards were sure to check us all thouroughly with the metal detector... at which point they took my camera from me and secured it.

After the hearing if you want to call it that... we all surrounded Irwin. The media people were snapping photos and recording video while Irwin told them what just happened.

A group was chanting "IRWIN IRWIN IRWIN".