"The Source of Evil" is my latest article, which drew

the Strike-the-Root Editor's coveted "Recommended"

tag as you can see on

Adjoining it on that home page is an excellent piece

by Ace Baker, a "childs' guide" to money. Worth time.

Jim Davies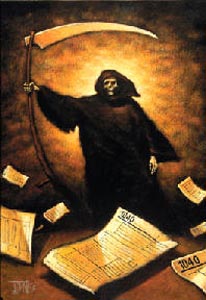 Almost everyone supposes there are such things as

good laws, even those who note how many bad ones

there are. My latest article on Strike the Root at

offers the opposite view.

Nearby it on STR's home page there are some excellent

other articles, including one on Voting by Per Bylund

which uses some gentle and delightful sarcasm. Both

received the Editor's "Recommended" tag.

Jim Davies

http://www.TakeLifeBack.com