Documentary Re: The Work of Elena Sassower - CJA

In all quarters of life we are finding the hue and cry for J.A.I.L., even if it be sometimes unknowingly. Everywhere people are running into brick walls involving the judiciary, and totally running out of options.

One speaker addressing a large group asked the question of his listening audience, where do we go from here if we do not have a forum for redress of grievances. From the audience came a shout the word associated with the "R" word. This response would be the natural and logical conclusion of everyone barring consideration of "Judicial Accountability Initiative Law." When there are no other means of redress afforded to the people, the people will naturally turn to radical means for "redress."

J.A.I.L.'s appeal has been, and is, to interpose a lawful and peaceable means between all other means of seeking redress, and the "R" word. I hate to use the word "wait," as J.A.I.L. is waiting for nothing. But the fact plainly is, when the people are ready to regain their freedom, they shall have freedom, and the only reason they do not now have freedom is because of their ignorance. This is a sad state of affairs, because the people seem to have to totally run out of every other option before they  "try" J.A.I.L. The fact is, J.A.I.L. is non-expendable and unavoidable.

One of our sister groups, Center for Judicial Accountability, Inc., Elena Sassower, a New York JAILer, has been diligently busy for many years documenting and perfecting the lack of redress within our current judicial system. I myself admit to eighteen years of learning the ins and outs of the judicial system, ending in fourteen trips to the United States Supreme Court as my background in the writing of J.A.I.L.

The below, by Elena Sassower, who has done a marvelous and amazing ob, may be a little deep for some of you, in which case you may chose to either save this email for later, or delete it. For the rest of you, a study of her documented facts will confirm the need for J.A.I.L. as the only answer to the problem America will see. And to those of you relying upon divine intervention, if you have ears to hear, let him hear, J.A.I.L. is that "divine intervention!" 

                                          -Ron Branson,  www.jail4judges.org

--------------------------------------------------------------------------------

Subject: *** A Landmark Event for Justice & Judicial Accountability ***

http://www.judgewatch.org/FederalMangano.htm

In the wake of a Judicial misconduct or abuse complaint, the judiciary often plays Monday morning quarterback: "If they had only filed X, or said Y, or raised Z... THEN we would have done something". (As you already know, this is a smoke-screen designed to divert attention from their own failure to supervise and discipline their own - but here's the proof.)

The upcoming proceedings involving Elena Sassower are pivotal to any citizen interested in restoring any degree of accountability to the judiciary. Although the main-stream media has repeatedly been presented irrefutable evidence regarding misconduct and corruption at the highest levels of our government, they have chosen to bury the story.

Linked below is a "test case"... All of the "i"s were dotted and all of the "t"s were crossed. Every remedy was pursued.

I would ask each of you to review this case and forward the information far & wide. The current proceedings are the culmination of a battle that has raged for over a decade. If properly covered, it will be the judiciary's Waterloo.

Regards,

Brutus

Each document is hyper-linked for easy access; however, if this happens to post in a plain text format and the links become inactive, here's the url:

http://www.judgewatch.org/FederalMangano.htm

TESTING IN A SINGLE PERFECT CASE

THE CHECKS ON FEDERAL JUDICIAL MISCONDUCT

TOUTED BY THE 1993 REPORT OF

THE NATIONAL COMMISSION ON JUDICIAL DISCIPLINE & REMOVAL

and documenting their complete worthlessness

* * * *

A public interest lawsuit to protect

judicial whistle-blowing attorneys from judicial retaliation

DORIS L. SASSOWER,

                               - against -   

HON. GUY MANGANO, PRESIDING JUSTICE OF THE APPELLATE DIVISION, SECOND DEPARTMENT OF THE SUPREME COURT OF

THE STATE OF NEW YORK, and the ASSOCIATE JUSTICES THEREOF,

GARY CASELLA and EDWARD SUMBER, Chief Counsel and Chairman, respectively, of the GRIEVANCE COMMITTEE FOR THE NINTH JUDICIAL DISTRICT, GRIEVANCE COMMITTEE FOR THE NINTH JUDICIAL DISTRICT, Does 1-20, being present members thereof, MAX GALFUNT, being a Special Referee, and G. OLIVER KOPPELL, Attorney General of the State of New York, all in their official and personal capacities,

Spreading the Truth to

Help Inform America!!

"The accumulation of all powers, legislative, executive, and judiciary, in the same hands ... may justly be pronounced the very definition of tyranny." -- James Madison, Federalist 47

"We are fast approaching the stage of the ultimate inversion: the stage where the government is free to do anything it pleases, while the citizens may act only by permission; which is the stage of the darkest periods of human history, the stage of rule by brute force." --  Ayn Rand, The Nature of Government




Write to Elena Sassower

Prisoner #301-340, D.C. Capitol Jail, 1901 D Street, S.E., Washington, D.C. 20003  (Tel:  202-673-8121).



The Work of

Elena Sassower - CJA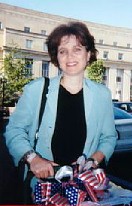 Elena is free -- free at last! 

Citizen Activist & CJA Founder is released

from D.C. jail after serving 179 days for respectfully

requesting to testify at a U.S. Senate Judiciary

Committee Public Hearing.

LATE BREAKING NEWS

FOR IMMEDIATE RELEASE 

Thursday, December 23, 2004

Contact: Harold Somer, 212 541 4838

or cell phone 646 236 6492

CJA: 914: 997-8105

email:  judgewatch@aol.com

JUDICIAL REFORM ACTIVIST ELENA RUTH SASSOWER FREE, FREE AT LAST!

Washington D.C. --   Prisoner of Conscience Elena Ruth Sassower, who has been called "the Rosa Parks of the judicial reform movement" for her efforts to get rid of "back of the bus" justice, was released today from the DC Jail in Washington DC 20003.   48-year old Brown University graduate, Hebrew School teacher, and youth leader, has served an unprecedented six month sentence for a "Disruption of Congress" charge in violation of First Amendment rights.

The disruption charge was based on Ms. Sassower's 23-word question posed on the adjournment of a May 22, 2003 Senate Judiciary Committee Public Hearing:   "Mr. Chairman, there is citizen opposition to Judge Wesley based on his documented corruption as a New York Court of Appeals judge. May I testify?"

The gavel to adjourn the meeting had already come down when Ms. Sassower, Coordinator of the citizen's organization, rose and asked respectfully if she could present her opposition testimony, of which she had given the Senate committee copies several weeks in advance.  Chairman Senator Saxby Chambliss had her immediately seized by the DC Capitol Police, removed from the Meeting Room, handcuffed, arrested, and incarcerated incommunicado for 21 hours before she was brought before a Magistrate, charged with "Disruption of Congress."

Judge Wesley was one of five judicial nominees of President Bush, whose nominations were before the Senate Judiciary Committee. Wesley's was a lifetime appointment to a federal judgeship on the U.S. Second Circuit Court of Appeals, which reviews federal district court appeals, including from New York. All five were confirmed after a two hour "rubber stamp" hearing, with politically pre-arranged guaranteed confirmation, Ms. Sassower's was the lone voice to express intended opposition at the Public Hearing.

In a statement issued by Doris L. Sassower, Cofounder and Director of the Center, which has been documenting judicial corruption for years, she says: "I am very proud of my daughter's triumph of endurance to withstand the heinous conditions to which she was wrongfully subjected in Jail. We should honor her heroism and courage in standing up to governmental tyranny for all Americans, performing their duty as citizens to defend our Constitution and Bill of Rights here at home. Our First Amendment was designed to protect Americans from abusive police state tactics employed to suppress legitimate and properly expressed dissent. On the law and the facts, the government had no criminal case. What it had was a judge who was a political puppet and showed his bias from start to sentence. We have already taken steps to remove this criminal in black robes from his judicial office." (Click on Judicial Discipline- D.C. Commission on our home page)

The internationally known D.C. law firm of Lewin & Lewin is representing Ms. Sassower pro bono and will be filing an appeal from her conviction in the D.C. Court of Appeals.

Independence Air provided the transportation for Elena's return home from jail by direct flight from DC to White Plains, NY.                                   

                   #            #           #

CJA's JUDICIAL MISCONDUCT COMPLAINTS:

At its December 15th meeting, the DC Commission on Judicial Tenure and Disability (euphemism for judicial misconduct) DENIED CJA's Judicial Misconduct complaints, as set forth in its detailed and documented FREE ELENA PETITION against Judge Holeman, the very same day that CJA filed a Supplemental Judicial Misconduct Complaint documenting the fact that Judge Holeman lied about his credentials to the Senate Committee voting on his confirmation. CJA's call for his removal was bravely supported by three experienced litigators, as well as a representative of the media who had witnessed the trial proceedings and been so appalled by Judge Holeman's arbitrary conduct that he presented to the Commission his personally prepared documentary videotapes, representing intensive, time-consuming work on his part. The Commission gave all these complaints, representing hundreds of hours of research and investigation, its usual peremptory short shrift, taking "the easy-out" of summary dismissal so that it would not have to address these facially meritorious complaints on their merits. In his hand-delivered letter to the Commission prior to its deliberation of CJA's complaints against Judge Holeman, this media witness stated "Frankly, no amount of words can adequately describe the dishonor and diminishment of public confidence in our judicial system that this judge brought upon it."

Initially, CJA was informed that the dismissal was on the ground that there was no jurisdiction because it found that there was "insufficient cause for the Commission to proceed" -- its shorthand for "the complaint lacks merit")!!! After politely expressing our shock and incredulity as to such alleged basis for dismissal, we received from the Commission the very next day its form letter, dated December 16, which came up with a quite different ground, to wit, "after careful review and consideration, the Commission has dismissed the complaints because they raise matters of law exclusively within the jurisdiction of the Court and beyond the statutory authority of the Commission." Of course, this is just a boiler-plate pretense, as anyone can see from a reading of our Supplemental Complaint and the initial complaint, encompassed in CJA's Free Elena Petition, both online on our website.

So once again, we see yet another tax-funded judicial misconduct commission designed to police the judiciary and protect our citizenry from unfit judges proving itself unfit for its own job by covering up, rather than confronting, flagrant judicial misconduct -- a thesis CJA has proved out many times in countless other cases and as Elena so brilliantly reported in her seminal 1997 article "Without Merit: the Empty Promise of Judicial Discipline," accessible on CJA's homepage. 

A request for reconsideration by the Commission was filed the very next day by CJA, which is accessible from our website by scrolling down to Judicial Discipline and clicking on the document listed.