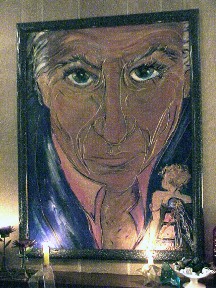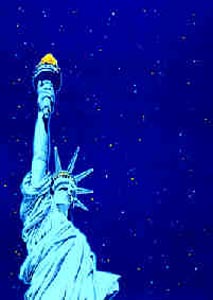 This is a great CD! You've got to get it! Cindy gives you the entire story; her side of what's been happening, from the begining, starting with the raid at Freedom Books, up to April 16th, 2003. She delivers her story in an articulate and passionate way. She makes clear how she, Irwin and Larry have been illegally targeted and persued and how their freedoms have been taken away as if they had already been convicted of something. Which they have not.

Roy Tuckman let Cindy have her say without interruption and she also spoke with a few interesting callers. 

In that sweet voice of hers, She shares with you, her point of view and important details that you won't hear anywhere else.

There are some wonderful uplifting  moments in the CD that will make you want to stand up and cheer.Wait till you hear this!

Come on everyone, Cindy needs our help. She's struggling to stay afloat and at the same time, beat the tyranny of the government.

We must do everything in our power to help keep her free. Angela

Cindy Neun Speaks Out

Recorded live on the Roy Tuckman Show, KPFK 90.7FM CA.

April 16th, 2003         Running time 59 minutes.  On CD

Cindy Needs Our Financial Support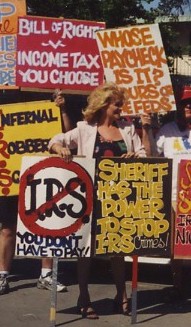 Some excerpts from the CD

"I've worked probably as much at the IRS in examinations and appeals functions as I do at Freedom Books."

"It's unbelievable what they are doing on this case. It's shocking! Anyone who is paying income taxes should be outraged, because if what Mr. Schiff was teaching you, were illegal, it would have cost the government absolutely nothing to charge him with perjury, because he's been filing the zero return for 13 years. My question to the government is, what took you so long?"

"It's not like we've been hiding!"

"There is no way the government had to go to all this trouble. They could have notified me at least 200 times. I have met with every one of their appeals officers here in this division and never once..."

"They're afraid. They know I can prove my case, and they know Irwin Schiff can prove his case."

"When you consider the fact that there are over 40 something taxes listed in the index of the internal revenue code that the government provides as statutes making people liable for them... What, were they shy about putting in the income tax? Americas most popular tax? They can't fit that one in there? Or what about the payment of the tax? They left that one out too, didn't they. But, guess where it was, quess where it used to be...  It used to be there, in the 1939 code and it was in there until  the 1954 code, when all the mandatory provisions were taken out of the code..."

"Irwin has asked the IRS, the DOJ, Judges, and US Attorney's, just show me the law and I'll close up shop voluntarily. So why don't they just show him the law and we can avoid all this?"

And there's much much more!