SIMPLE INSTRUCTIONS

1. HIGHLIGHT AND REPLACE THE CURRENT NAME WITH YOUR NAME AND CLICK "CHANGE"

2. TYPE YOUR MESSAGE  IN THE MESSAGE BOX AND THEN CLICK "SUBMIT" OR ENTER.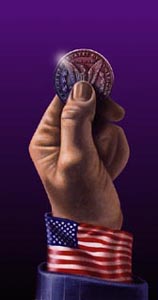 Real Money = Real America

THIS IS A NO FRILLS CHAT ROOM. THERE ARE NO MICROPHONES TO CHAT WITH, OR TEXT COLOR CHANGES, ETC.